Infrastructure Business
Area Heating and Cooling Business
Business summary
In Haneda Airport, Tokyo Airport Heating & Cooling Co., Ltd., our group company, has been engaged in the Area Heating and Cooling Business since 1993. Heating and cooling sources used for air conditioning and hot water supply are generated in the Energy Center, and supplied through the regional pipeline network within the airport. The total area covered by the network is as large as 100ha, including domestic passenger terminals, maintenance plants, and government buildings, stably supplying 24 hours a day, 365 days a year. Area heating and cooling service concentrating the vast supply capacity of 26,500 refrigeration tons/day for refrigeration and steam generation of 115 tons/hour for heating, which are equivalent to three times and eight times the capacity of the Tokyo Metropolitan Government building, respectively, not only allow effective utilization of the limited land of the airport, but also contribute environmentally in terms of energy saving, reduction of CO2 emission, etc.
Introduction of business
Support energy supply 24 hours a day
Operation is controlled centrally in the control room. It provides around-the-clock support for the heating energy environment of the entire area through daytime and nighttime shifts.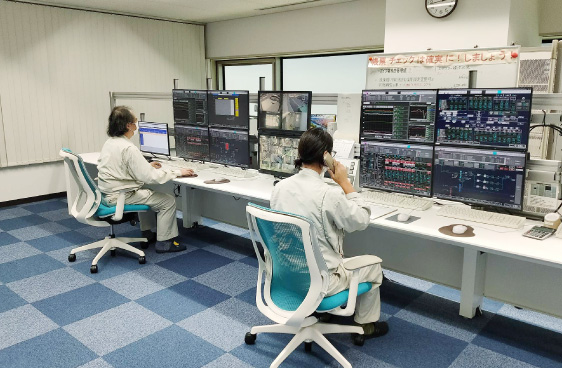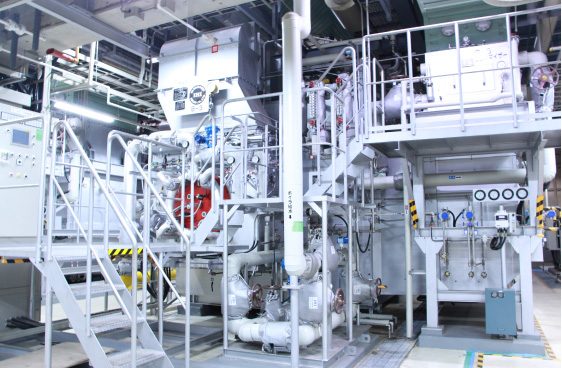 For the further evolution of environmental measures
We are working to further improve our environmental measures, including the replacement of refrigerating machines with higher efficiency models and the introduction of recycling equipment to reduce the amount of water used.